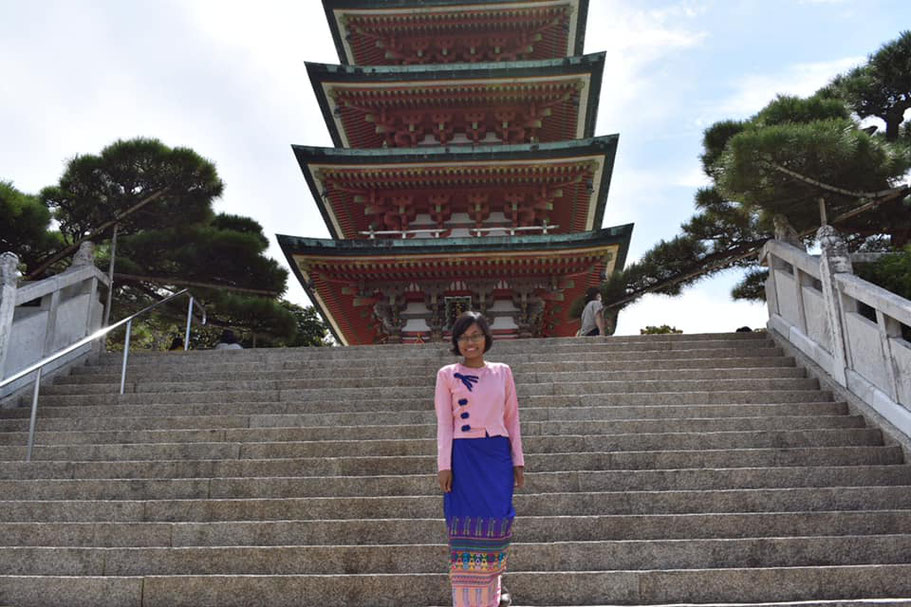 A visit of a Myanmar lady to the Kousanji temple in Hiroshima, Japan! ☺️
I would like to share the brief description of the temple here. This information is available in the temple pamphlet. I just copied it. 
潮攀山耕三寺 Kosanji Temple 
Kosanji Temple is a temple belonging to the Honganji Sect of the Jodo Shinshu School of Pure Land Buddhism. It was founded in 1936 by the industrialist Kozo Kosanji, an early twentieth century pioneer in French-style welding techniques who resided in Osaka, as a family temple that he built in dedication to his late mother. The temple complex was constructed over a period spanning more than 30 years. Kosanji not only built the temple, but even went so far as to enter the priesthood in order to repay a son's debt of gratitude to his mother. We sincerely hope that all of those who visit Kosanji Temple will take a moment to think of their mothers, for it is written in a famous haiku: "The mothers of the world are as the Goddess of Mercy."
Within the grounds of Kosanji Temple, the works of art that keep collected over a lifetime are on display. The collection features sculpture, paintings and handicrafts that are representative of Japan, including important Cultural Properties and Important Works of Art, on permanent lay or available for viewing as part of special exhibits.
未来心の丘 The Hill Of Норе
Designed and created over a period of 16 years by Itto Kuetani, a sculptor who is active in Italy, this marble garden was opened in October of 2000. Covering over 5,000m2 and using around 3,000 tons of Carrara marble, the garden is filled with various monuments both large and small that incorporate the surrounding environment to achieve a remarkable harmony with nature. The theme of the garden is "Familial Ties" and it represents a peaceful world that is filled with hope for the future.
Credit: Kousanji Temple pamphlet