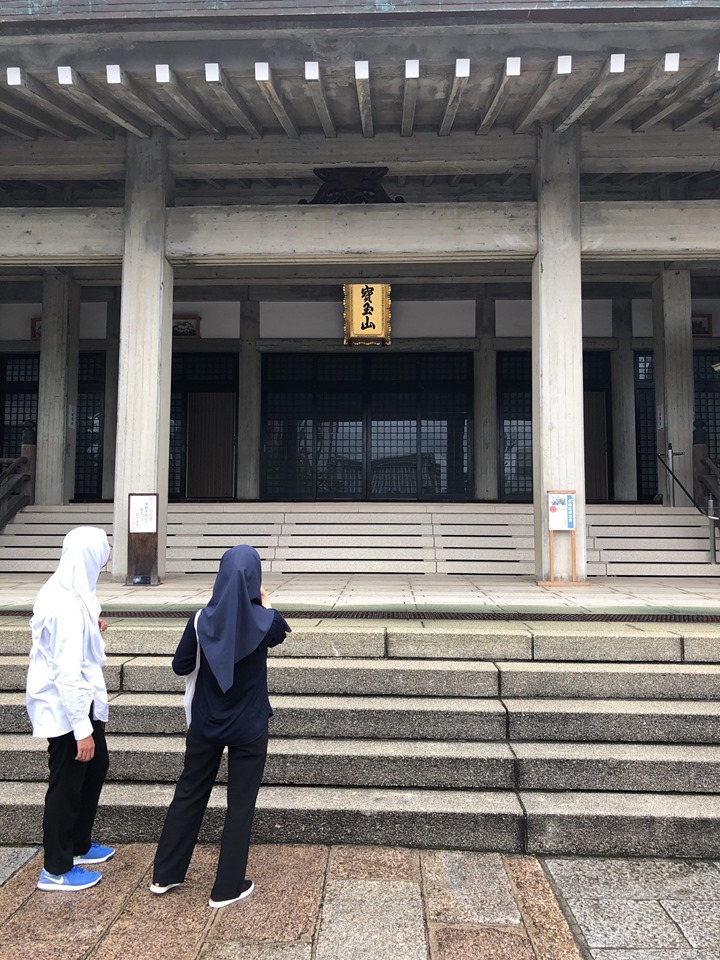 Dear everyone,
Today I would like to share my trip along with two other fellow Malaysian students to the grave of Nik Yusof Bin Nik Ali, one of the Malaysian victims of the atomic bombing in Hiroshima in 6th August 1945.
Ironically, the late Nik Yusof was an acquaintance of my wife's grandfather which replace himself as he was not able to further his study in Hiroshima due to circumstances at that time. Nik Yusof, along with Abdul Razak Abdul Hamid, another fellow countrymen journeyed to Hiroshima during the WWII period, although he was the only sole survivor from Malaysia.
I was unable to attend his gravesite last year due to a conflicting schedule but god-willing that this year I was able to attend. We arrived at the gravesite located in the Kozenji Temple, Itsukaichi City, about an hour from Saijo by car. After being introduce by the support staff of the Hiroshima University International Office to the temple's guardian, we proceed to the site along with several others from Hiroshima University. All of us say our prayers and gave respect to the late Nik Yusof and to the world peace in general. The University staff also set bouqet of flowers upon Nik Yusof's grave as a sign of respect.
Even with the noise of the cicadas around the temple, I felt at ease though heavy with thoughts, thinking about war, humanity and its consequences. It is indeed with such thought in mind that drive the annual remembrance of the 6th August 1945 tragedy. As we finish our prayers before going back to Saijo deep in my heart wishing the peace throughout the whole world and the elimination of any weapons of mass destruction created by men.
You are always in our thoughts, Mr. Nik Yusof, May Allah grant you a place in his heaven, Amin. I am hoping to visit his gravesite annually after this, god-willing.
The late Abdul Razak Sensei's accounts on the bombing:
http://www.prn.usm.my/…/hiroshima-in-m…/malaysian-s-survivor
Picture: From left, Nik Yusof Nik Ali, Syed Omar Alsagoff, Abdul Razak Abdul Hamid.
----
Hai semua,
Hari ini saya nak berkongsi tentang perjalanan ziarah pusara arwah Nik Yusof Bin Nik Ali bersama dua orang lagi pelajar Malaysia pada 6 haribulan Ogos yang lepas. Arwah Nik Yusof adalah salah seorang mangsa pengeboman bom atom Hiroshima pada tanggal 6 Ogos 1945.
Ironiknya, arwah adalah teman kepada datuk isteri saya yang menggantikan tempat beliau untuk menyambung pelajaran ke Hiroshima semasa Perang Dunia Kedua meletus sekitar 70 tahun yang lepas. Arwah, bersama Datuk Abdul Razak Abdul Hamid yang terselamat ketika pengeboman, sama-sama melanjutkan pelajaran di Hiroshima.
Tahun lepas saya tidak berpeluang untuk menziarah pusara beliau kerana konflik jadual, Alhamdulillah dengan izin Tuhan saya dapat menziarahi pusara beliau tahun ini. Kami tiba di Kozenji temple, Bandar Itsukaichi dengan kereta sekitar jam 11 pagi dengan kereta yang dipandu oleh staf sokongan Jabatan Sokongan Antarabangsa Universiti Hiroshima. Kozenji temple terletak sekitar satu jam perjalanan menaiki kereta dari Saijo. Selepas pertemuan ringkas dengan penjaga pusara di Kozenji pada hari tersebut, kami menuju ke kawasan arwah disemadikan bersama beberapa staf sokongan Universiti Hiroshima yang lain. Kami masing-masing berdoa kepada kesejahteraan roh arwah sebelum staf sokongan Universiti Hiroshima meletakkan bunga di pusara arwah.
Walaupun kawasan pusara tidak hingar-bingar dengan bunyi riang-riang waktu musim panas, saya tenang namun fikiran sarat memikirkan tentang peperangan, kemanusiaan dan kesannya pada dunia sejagat. Mengenangkan hal ini lah tragedi 6 Ogos saban tahun diingati di Hiroshima. Setelah siap urusan kami dan menuju pulang ke Saijo, jauh dalam hati saya inginkan keamanan terhadap dunia secara umumnya dan genjatan senjata terhadap semua senjata pemusnah yang dicipta manusia.
Anda sentiasa ada di hati kami, arwah Nik Yusof. Moga arwah ditempatkan di syurga Allah, Amin Ya Rabb. Mudah-mudahan saya dapat menghadirkan diri untuk sesi ziarah kubur arwah setiap tahun selepas ini, Insya Allah.
Pautan berikut merupakan kisah pengeboman dari kacamata arwah Datuk Abdul Razak yang terselamat dari letusan bom atom.
http://www.prn.usm.my/…/hiroshima-in-m…/malaysian-s-survivor
Gambar: dari kiri, Nik Yusof Nik Ali, Syed Omar Alsagoff, Abdul Razak Abdul Hamid.
---