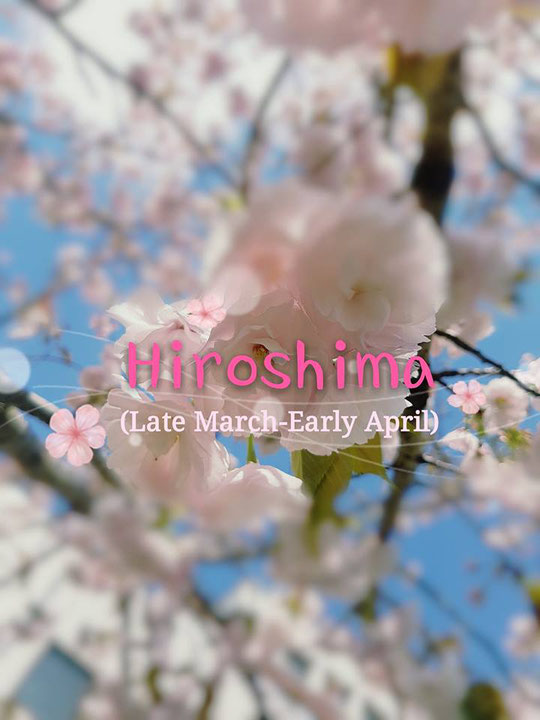 Best Cherry Blossom Spots in Hiroshima
Konnichiwa. I'm Soth, a member of Hiroshima Study Abroad Ambassador from CAMBODIA. Meet me again yayyyy.
Me talking to myself:
Q: Do I post this article much earlier? Winter hasn't ended yet.
A: No. Just in case there are some people out there planning for a trip to Japan during March-April to see cherry blossoms. It's better to plan well ahead, right?
If Hiroshima is in your itinerary, check this schedule below:
- estimated average first bloom: March 25, 2019
- Estimated average full bloom: March 31 to April 8, 2019
Now let me introduce you some popular places in Hiroshima for the best cherry blossom viewing:
1. Hiroshima Peace Park
 Around 300 cherry blossom trees
 Next to Genbaku Domu Mae tram stop (No admission fee)
2. Hiroshima Castle
 10 minute walk from Kamiyacho-nishi or Kamiyacho-higashi tram stop (No admission fee, except interior of castle keep)
 Around 450 cherry blossom trees
3. Shukkeine Garden
 15 minute walk from Hiroshima Station 9:00 to 18:00 (260 yen entry until 17:30)
 Around 200 cherry blossom trees
4. Hijiyama Park
 Next to Hijiyama Koen Shita tram stop
(No admission fee)
 Around 1300 cherry blossom trees. Just wowww.
5. Miyajima 
45 minutes by train and ferry from Hiroshima Station
 Around 1300 cherry blossom trees