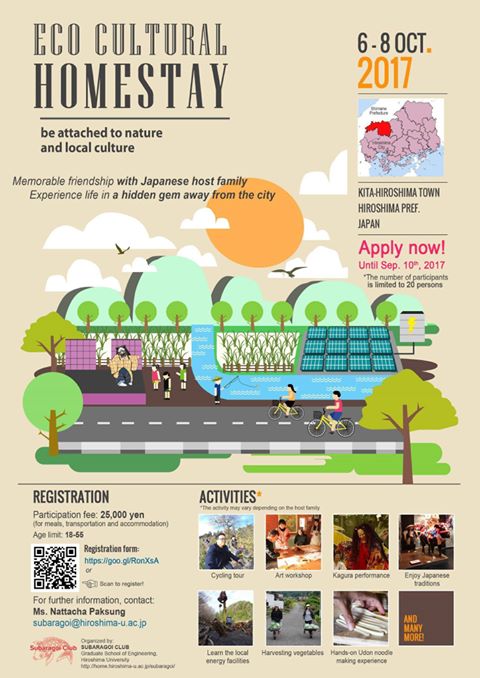 Hi everyone! 
Novi san, one of HSAA 2016 members shares this great event 😊
Do you want to experience home stay in rural area in Hiroshima? Have a look at this fryer😄
🔵Description
The very rare chance to enjoy REAL JAPAN by joining homestay in Japanese family houses and experience like nowhere else! 
It's open for Japanese too, to interact with people from different countries 🙂
Because typical tourist sightseeing is so mainstream!
Register before Sept 10, 2017!
Details:
If you are the one who is seeking for a getaway from busy life in a crowded city, this is the perfect event for you. Enjoy Japanese tradition and culture with Japanese local people in a hidden gem of Hiroshima. Take a slow breath of soothing fresh air and recharge yourself.
Don't forget to register at https://goo.gl/RonXsA before September 10th!
Date: October 6th-8th, 2017
Place: Kita-Hiroshima Town, Hiroshima, Japan
Participation fee: 25,000 yen
For registration and further information contact: Nattacha Paksung (Pang)
subaragoi@hiroshima-u.ac.jp
Looking forward to seeing you all there!