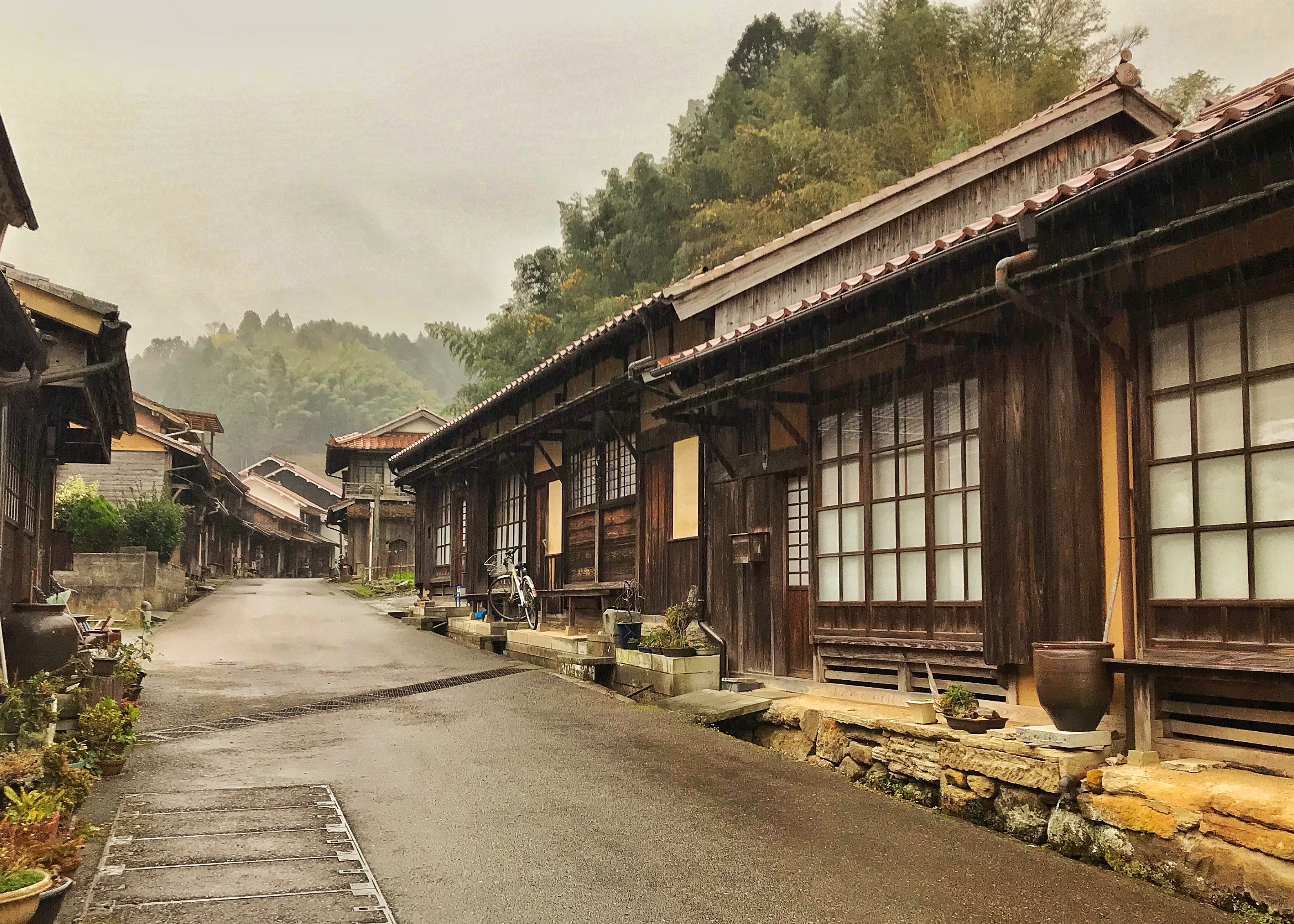 I had an amazing experience of visiting a small town called Omori in Oda city, Shimane Prefecture, thanks to @huber_inc @sanin_stagram @hiroshima_international_center and the very friendly local guide Shun @shunitchy
Omori is located near the Iwami Ginzan, the historic silver mine mountain which was one of world's largest silver resources. Considering the importance of Iwami's silver mining, the Bakufu built settlement for samurais, merchants, and other governmental offices to control the silver production in this small town.
Omori's residence commit to preserve their town ambience by making sure that every element of the town represent the ancient, natural and traditional image of old Japanese lifestyle, despite various modern efforts and facilities to support their tourism. Shun showed me small details such as the brown-painted traffic sign poles, underground electricity cables, and wooden-framed vending machine were made to keep the harmony of old Japanese town image in Omori.
It was raining when I visited Omori and thanks to that, I was able to experience the romantic serenity of this little town. The surrounding mountains and mist from the drizzling rain created a tranquil atmosphere that calms every individual who seek a getaway from hustle and bustle of big cities. Thanks to this weather too, I was lucky to experience the rare ambience of an old house, Mujakuan, managed by Shun's boss, where the smell of burned charcoal filled the room, and the candles were lit. Shun told me it was very rare for visitors to see these ambience, since they normally do not light the candles nor charcoal and left Mujakuan dark as no electricity or gas are used in this old house.
Despite its remote location, Omori has many modern shops and cafes selling crafts, liquor, local snacks and seasoning. As part of the their commitment to maintain the traditional and natural lifestyle of Omori, these shops utilize natural ingredients not only for their products but also the shops' displays and decorations. One of these shops is Gungendo which produce various products such as apparel, skin care, seasoning, handicraft, pottery, kitchen and dining utensils and many more. It even has its on cafe on the first floor and an art gallery on the second floor.
Gungendo's owner, Tomi-san, does not only run this shop but also manages some old houses of samurais and merchants, and turned them into inns and museums. Takyo Abeke was a traditional samurai house turned into a enchanted guesthouse with three traditional rooms, kitchen, dining room and bar. This is my most favorite place during my visit and I am looking forward for a good chance to spend nights in Takyo Abeke.
Kawashima House and Kumagai House are another traditional houses owned by two wealthy samurai families. These houses are now functioned as small museums displaying the belongings of these families. Some elements and decorations were added to represent the traditional Japanese lifestyle which is definitely one of the point of interests for foreign visitors. Traditional samurai houses, especially the wealthy ones like Kawashima and Kumagai houses, usually have gardens with stone path for welcoming important guests, and a tea room (chashitsu) with traditional kettle and stove.
Temples and shrines can be found countlessly in Omori. In these pictures are Kanzeonji and Ido shrine.
Kanzeonji's entrance is on top of a small stone hill right next to a bridge and a small stream. For me it was quite noticable from afar because of the misty mountain background and the rain brought up the detail structure of the hill and stairs.
According to Shun, This Buddhist temple was dedicated for silver mine workers who died while working in Iwami Ginzan.
Ido shrine also has an eye-catching entrance thanks to its unusual torii gate. This torii was reconstructed and painted with soft orange peach color instead of bright red, the common torii color. It was almost the end of autumn foliage when I visited Omori so leaves were scattered on the wet ground while some trees still hold their bright red and orange color. It was an enchanted view and I was lucky to have a short time to rest and sit on the temple's veranda to enjoy the view.