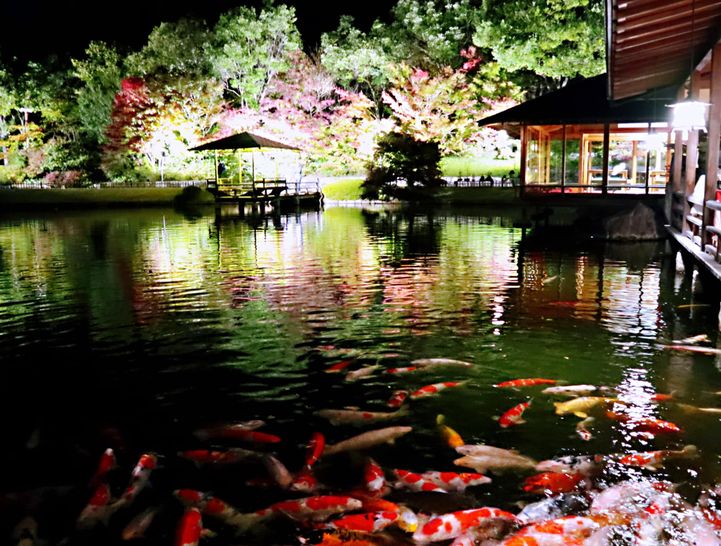 夜のモミジ、幻想世界→三原市本郷の三景園、31日からライトアップ
三原の三景園に行ってきました。色づいた紅葉が見れました。錦鯉のエサやりもして楽しかったです。
三景園とは?
広島の「里・山・海」をテーマとした日本庭園
広島空港の開港を記念してつくられた約6ヘクタールの広さをもつ築山池泉回遊式庭園です。
広島県の山渓谷、瀬戸内海の風景をモチーフに庭園化したもので、自然を生かした山のゾーン、里のゾーン、海のゾーンからなっています。
3月は梅まつり、5月の新緑・ボタン・ツツジ、6月に花まつり(100種類10,000本のアジサイ)、11月にはもみじまつりが開催され、年間を通じて美しい日本庭園を楽しむことができます。
---
 Night maple, fantasy world→Mihara city Hongo three scenery garden, from the 31st light up
I went to sankei garden in mihara. I could see the colored autumn leaves. It was fun to feed nishikigoi.
What is sankeien garden?
A Japanese garden with the theme of "village, mountain and sea" in Hiroshima
Built to commemorate the opening of the Hiroshima airport, it is a miniature garden with an area of about 6 hectares.
The garden was created with the motif of mountains and valleys of Hiroshima prefecture and scenery of the seto inland sea, and consists of the mountain zone, the village zone, and the sea zone that make the most of nature.
There are plum festival in March, fresh green, peony and azalea in May, flower festival (100 kinds of 10,000 hydrangeas) in June, and maple festival in November.