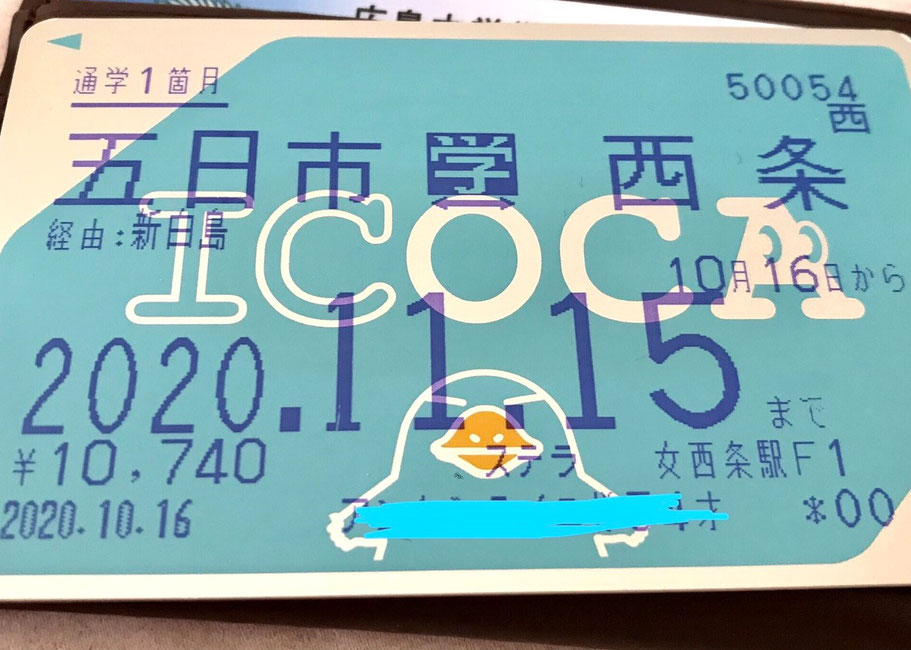 Just recently I have moved to Itsukaichi from Saijo. Since I am still a student in Hiroshima University, and because of some of my part-time jobs, I have to travel quite often between Itsukaichi and Saijo.
As you might have guessed, the transportation cost became high.
Later, I found out about ICOCA teikiken (定期券, pic 1), which gives special price for those who commute routinely between two destinations and university students are included in one of the passenger categories eligible for this special price. With this I am able to save a lot despite the expensive round trip train ticket.
In my case, I go to Saijo (and somewhere between Itsukaichi and Saijo) 3-4 times a week in average. Take 3 times a week as an example. Without ICOCA student teikiken (means using regular ICOCA), I have to pay ¥18,480 a month for round trip train from Itsukaichi to Saijo. With ICOCA student teikiken, I only pay ¥10,740 (pic 2) and it covers unlimited ride between those two stations, no matter where you board or depart. As I also have some part-time jobs in places between those stations and the companies pay for my regular transportation cost, using teikiken provides me a little bonus income.
To apply for this ICOCA teikien and the student discount, a university student needs to request a letter from the university (通学証明書 tsuugaku shomeisho) proving their student status and their registered address. This letter should be given to the Midori madoguchi counter inside a train station to get the ICOCA teikiken.
For the information about ICOCA teikiken (all types)
https://www.jr-odekake.net/icoca/about/
And for the price simulation you can check:
https://teiki.jr-odekake.net/smt/search.html
It is all in Japanese but we can always use automatic translation extension in your browser (e.g., Chrome and Google Translate).