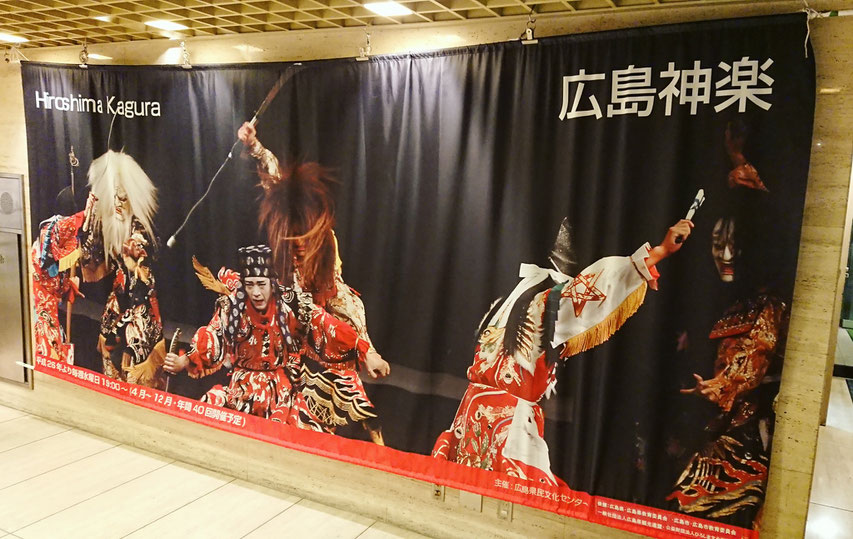 [Kagura tradition in Hiroshima]
Hello, everyone. 
This is Ghana from Hiroshima University.
Last weekend I watched a kagura show with another HSAA member, Sally, and a staff member of HSAA, Maiko-san, at Hiroshima Prefectural Citizen's Culture Center (広島県民文化センター) in Hiroshima city.
Kagura (神楽) was initially a ritual ceremony held in autumn by the Japanese ancestors to show their gratitude to the Gods for everything good that happened in this world.
This traditional performance has been passed down through generations and nowadays become one of living traditions in Japan, primarily in Shimane and Hiroshima prefectures.
Even now, kagura still has deep connection with Shinto beliefs and the rhythms of the agricultural calendar.
This traditional dance is generally performed by male performers only, and it usually tells us about one of various folklore stories in Japan.
This time, we had a chance to watch a kagura show about Tsuchigumo (土蜘蛛), a demon that usually takes form of a giant spider and once was told to run amok in Japan. 
In this story, the demon tries to poison Minamoto no Raikō (源 頼光), who is the shōgun (将軍) at that time and the nemesis of Tsuchigumo, but fails. 
The spider demon is then slayed by legendary retainers of Minamoto no Raikō led by Urabe no Suetake (卜部 季武) using a powerful heirloom sword.
The show was 45 minutes long, and at that time, many foreigners also came to enjoy the show. 
After it finished, there was a Q&A session between the spectators and the performers, followed by a free session for all audiences to try wearing the costumes and the Tsuchigumo mask.
For me personally, it was my first time watching a kagura show. 
I would say that the performance was pretty interesting and astonishing, especially that one performer could wear a mask while doing a flip.
And, I also got to try wearing one of the robes and the Tsuchigumo mask.
The robe was pretty heavy, and it was said that it took 2-3 years to sew it by hands (without any sewing machine). 
It was definitely an amazing experience to experience and learn more about another Japanese culture.
So, if you guys have a chance to come to Hiroshima, you can also try to enjoy this old tradition of Japan at various places throughout Hiroshima, one of them is Hiroshima Prefectural Citizen's Culture Center. 
The fact that it is located pretty close to Hiroshima Peace Memorial makes it another great destination for tourists to also learn about traditional cultures in Japan. 
For further information related to admission fee, performance schedule, and more, please refer to this website: http://www.rccbc.co.jp/event/kagura/en/index.html