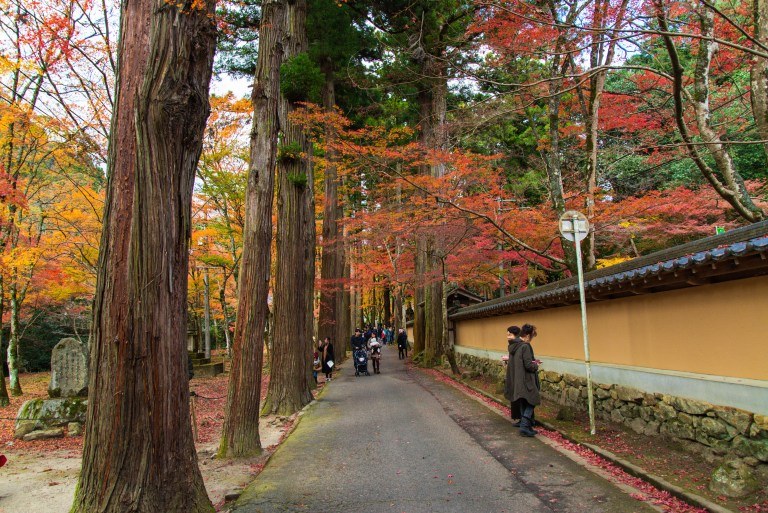 Hello Everyone.
Dhanashree Sant from HSAA2018
This week I am going to introduce you top 5 Koyo spots in Hiroshima where you can explore and enjoy.
Third: Buttsuji Temple
Buttsuji Temple is popular spot of southern part of Hiroshima.
The Zen Buddhist temple, Buttsuji, was founded in 1397 by Kobayakawa Haruhira who was the lord of the area around Mihara City at the time. He invited Guchu-Shukyu of the Rinzai-Zen School of Buddhism to be its first leader. It is a temple housing largest Zen Buddhist training hall in Western Japan. When you look at the leaves along with the temple and Buddhist statue, the beauty of the scenery stands out even more. In total, there are 20 large structures built on the temple grounds. The main temple building in its center is used for Buddhist sermons and houses 11 images of Buddha.
The trail head to the Shoun waterfall is located about 2 kilometers past the temple's 3rd parking lot. From there it is a 15 minute walk through the forest by the Buttsuji River to the actual waterfall. The sun effect provides a very weighty backdrop of nature for the waterfall and makes hiking out to it all that more enjoyable.
Access: From Mihara Station take a bus headed for Buttsuji Temple and get off at the last stop. The trip takes about forty minutes and the one-way fare is 620 yen. You can also take a bus headed for Buttsuji Temple from Hongo Station and get off at the final stop. It takes thirty minutes and the one-way fare is 360 yen.
Fees: 300 yen for Adults, 200 yen for students.
For more details please go through the Website below (Japanese only)