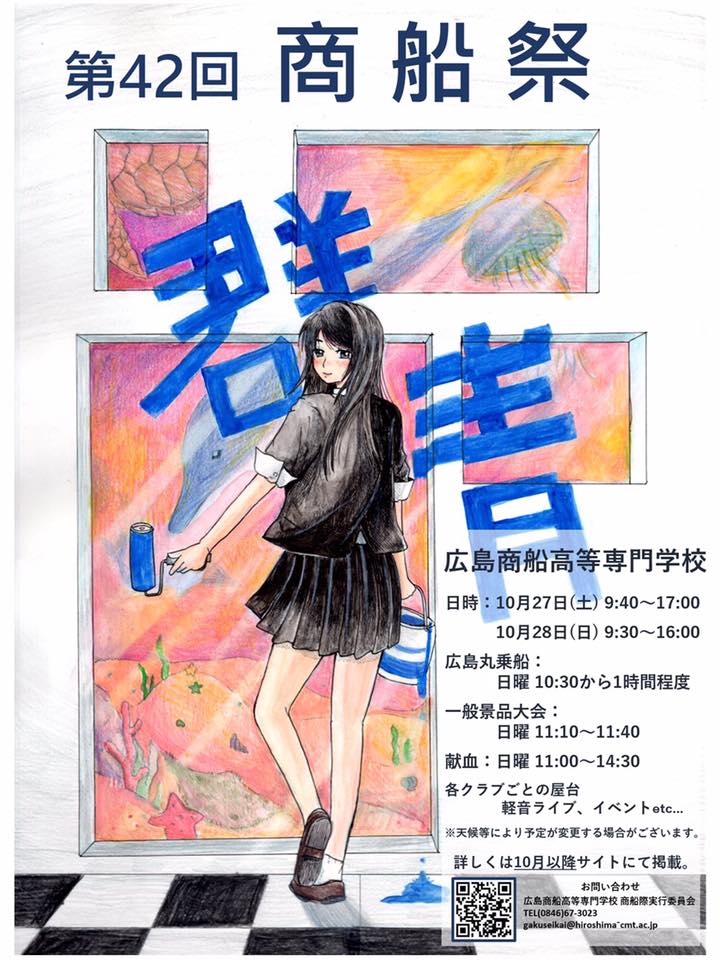 【商船祭】
皆さん、こんにちは!チュンヤンです!
この前西日本の災害や台風で何個かのイベントが次々と中止になって、久しぶりの投稿になってしまいますが、早速次のイベントについて紹介します。
そうですね!写真の通り、広島商船高等専門学校が主催する商船祭(学祭)でございます。今週末の10月27、28日に開催されます。時間のある人はぜひ来てみてください!
詳細はこちら↓
---
【Shousen Festival】
Hi guys, it's me, Chun Yang.
It has been a while since my previous post. Here am I again with a good event to share with all of you.
It is the annual school festival of National Institute of Technology, Hiroshima college, which is being called as "Shousensai" in Japanese language. Here are some of the attractions and highlights of this event. Please do come and support us!!!
Day 1 (10/27)
-Opening ceremony, Clubs Introduction, Crossdressing, Live band performance, Competition among the students
***Hiroshima maru curry rice (limited for first 100 servings)
Day 2 (10/28)
-Brass band performance, Live band performance, Dance performance
***You can have a try to board on the training ship (Hiroshima maru)
⭐️Bazaar will be held by the students for both days.
⭐️Every course will also have exhibition about their courses on both days.