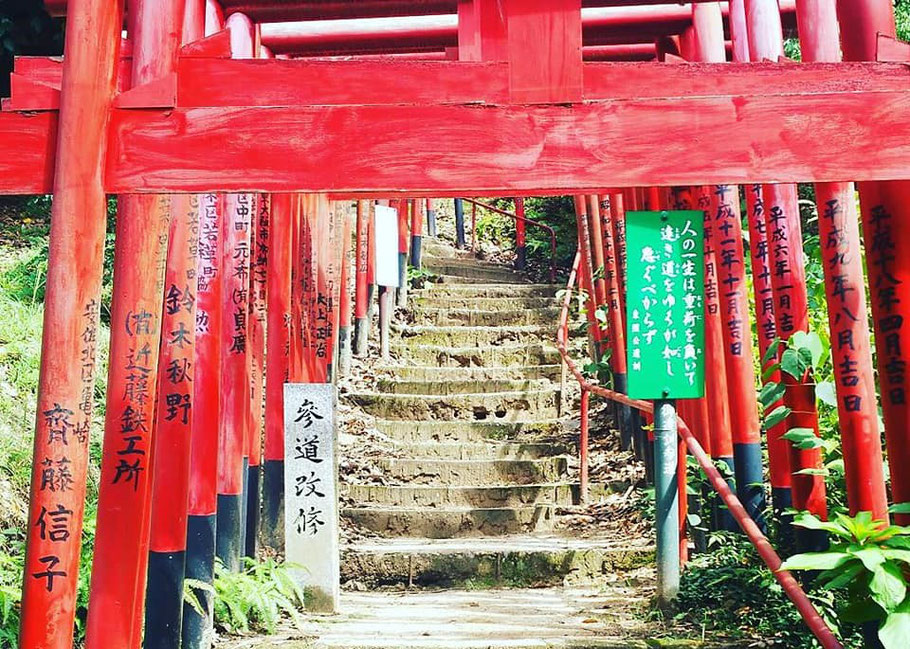 Hiroshima Peace Pagoda
Hello everyone! I'm Sally from Australia. Together with another HSAA member, Ghana we went hiking to a lesser known area of Hiroshima, to a place called The Peace Pagoda or Bushartito. The Peace Pagoda was constructed in 1966 as a place to commemorate and serve as a resting place for all the souls lost in the A Bomb in 1945. This beautiful, shiny silver building can be viewed in many places around Hiroshima, including the harbour where you can take the ferry to Miyajima. It is a very beautiful monument for Hiroshima, and not very difficult to get to.
To get to the Peace Pagoda, simply take the North Exit from Hiroshima station, taking the left escalator down from the station. From here it is almost a simple straight line. You will find a large staircase that leads up to Tosho-Gu Shrine. You can go through the shrine on your way to start the hike. Exit the shrine to the right, and then take an immediate left turn up a steep hill. This path leads you to Kinko-Inari shrine, which is a set of gates or torii made in the same manner as the famous Fushimi-Inari Shrine in Kyoto – just in red. After following the torii up, you reach a beautiful lookout over Hiroshima. This is a lovely spot to rest, drink some water or eat a snack. We bought one of Hiroshima's famous Bake Cheese Tart at Hiroshima station. Nothing quite like it!
Before reaching the pagoda, there is a small detour point you can take. Instead of turning right at the top of Kinko-Inari shrine, you can head left to see the remains of some World War II gun batteries that were destroyed in the A Bomb. Then just a straight shot back right and you will quickly reach the pagoda. The views are so fantastic and beautiful.
After reaching the pagoda, there is some nice picnic spots in the area, or there's a famous steak restaurant called Mahogany that is just a few hundred metres down the hill into the Ushida residential area, which is home to a lot of nice houses.
You can also climb the Ushida-Alps from this point, or head to Ushidayama-Kannonji. We decided to save that for another trip! So it was just a quick 10 minute walk down to Hiroshima station. All in all, the walking is about one hour.
If you're looking for a relaxing day and a lunch pit on Hiroshima, I really recommend this beautiful area.