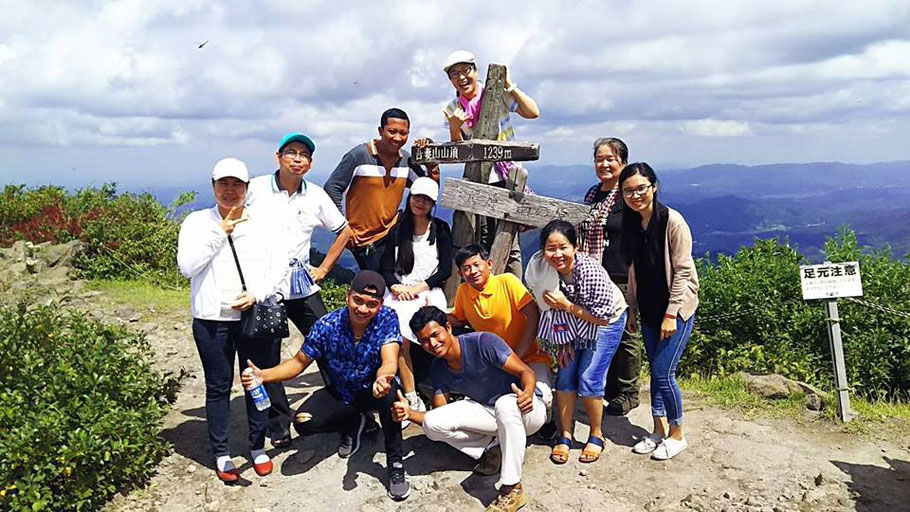 💗 Mt. Azumayama climbing with my Cambodian fellows and Japanese families in Shobara 💗
Hi everyone. Meet me again, Soth from CAMBODIA 🇰🇭
Are you kindda bored of the city? How about travelling to Shobara? Mountain climbing sounds good? Shobara, besides its beautiful terraced paddy fields, it is surrounded by quite a lot of mountains. Today I would like to introduce you one of the tourist spots called Mt. Azumayama or Mt. Azuma in short located in Shobara, the northern part of Hiroshima prefecture.
Before the hiking begins, you first enter a "National Park Resort KYUKAMURA AZUMAYAMA-LODGE". There is a hotel of 17 guest rooms which can occupy up to 53 people. Moreover, there are banquet hall, conference room, resturant, tea drinking, vending machine, a stand and a souvenior shop. Don't forget to buy fish feeds there, because you are going to see hundreds of fish in the pond up the mountain.
Let's the hiking journey start. Around an hour walk up on the grassy slope of Mt. Azuma, you will find many types of plants and flowers along the way. It may be a bit tired, but it is worth all the sweat, because the spectacular view and fresh air from the top of the mountain will never be disappointed. I can say, Mt. Amuza is one of the best things to do in Shobara.
🔸️Address: 423-1 Hiwacho Moriwaki, Shobara 727-0321, Hiroshima Prefecture
🔸️Tel: +81-824-85-2331 
🔸️Access: by rail, car or plane (More access information: https://www.qkamura.or.jp/en/azuma/access)