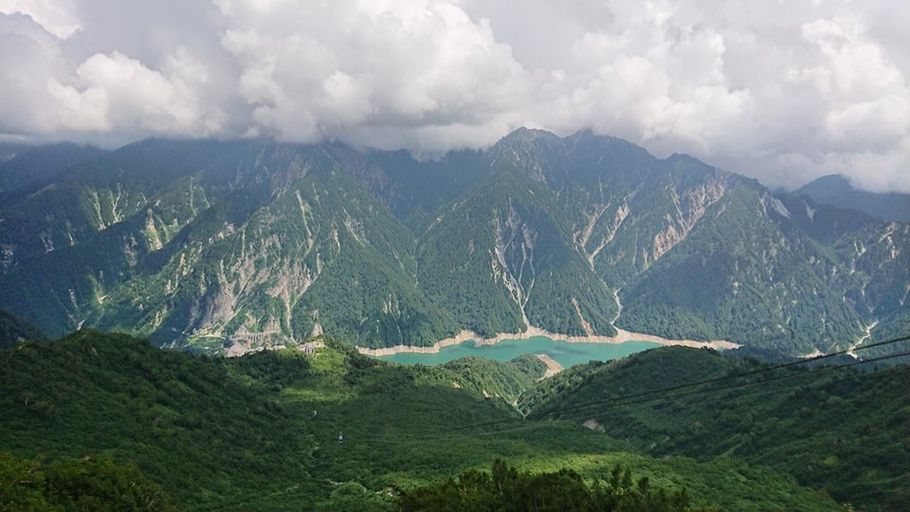 Tateyama Kurobe Alpine Route
Hello, everyone.
This is Ghana from Hiroshima University.
Last week, I went to Tateyama Kurobe Alpine Route with several friends of mine during my summer holiday.
This amazing tourist spot is located in Toyama prefecture.
Through this route, we can explore Mt. Tateyama through a set of ropeways, buses, and cable cars raising up to an elevation of 2450 m above sea level, from which we can climb further reaching the top of it at 3015 m above sea level.
However, this route is only open from the middle of April to the end of November.
This place is definitely worth visiting.
The view from the top of Mt. Tateyama overviewing the Kurobe dam is breathtaking.
It was definitely a nice getaway for me in summer because the temperature over there was only around 12-18 C.
One more interesting part about this place is, if we visit the mountain during April-May period, we can walk between two snow walls with height of each reaching up to 500 m.
We can access this place from Toyama station and Nagano station.
So, for those of you who live in Hiroshima, you need to go to either of these stations first to enter the Tateyama Kurobe Alpine Route.
From Toyama station, we should take a train on Toyama Chiho railroad to reach Tateyama station, the entrance of this route from the Toyama side.
Whereas, we should take a train to Shinano-Omachi station followed by a local bus to Ogizawa station if we want to enter from the Nagano side.
For all transports inside the Tateyama Kurobe Alpine Route, we can purchase a one day pass for either one-way or round trip from either entrance.
If you are interested to go to this gorgeous place, you can find complete and detailed information from their official website at www.alpen-route.com/en/
---
立山黒部アルペンルート
皆さん、こんにちは!
広島大学のGhana (ガーナ) です。
先週僕は富山県の立山黒部アルペンルートに行きました。
このルートでは僕達がロープウェイやバスやケーブルカーで立山に登ることができます。
一番高いステーションの標高は2450メートルです。
あそこから立山の頂上に歩いて登ることもできます。
ただ、この観光地は4月中旬から11月までしか開いていません。
立山黒部アルペンルートはとても素晴らしかったです。
立山の頂上からの景色はきれいでした。
夏の中でも、温度は12‐18程度ぐらいです。
夏休み旅行の目的地としては非常にいいところです。
さらに、4月中旬から5月までの間に来たら、雪の大谷という大きな雪壁が楽しめます。
立山黒部アルペンルートの出入口は二つしかないから、この観光地に電車で行くのは、広島から出発したら、まず富山駅や長野駅に行かなければならない。
富山から入れば、富山地方鉄道の電車で行って、立山駅から入れます。
一方長野からだったら、電車で信濃大町駅に行って、バスで扇沢駅に行って、扇沢駅から入れます。
立山黒部アルペンルートの中の色々な交通機関は、ワンデーパスが買えるから、どちの出入口から片道でも往復でもルートを楽しむことができます。
詳しくはこちらです:www.alpen-route.com/index.php