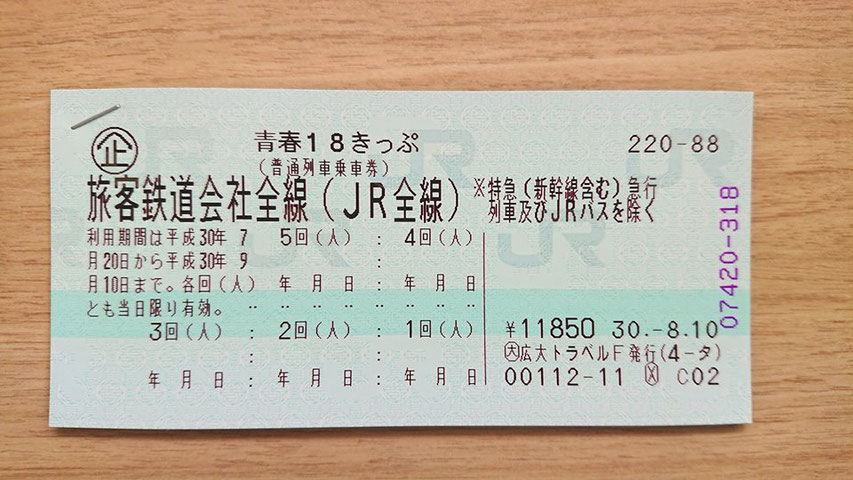 [Seishun 18 Ticket]
Hello, everyone.
This is Ghana from Hiroshima University.
In this occasion, I would like to share to you a pretty useful information about how to travel cheaply in Japan, especially for people who are currently living and taking their studies in Japan.
One of many alternatives to travel in an inexpensive way during our stay in Japan is using a special ticket called Seishun 18 ticket (青春18きっぷ).
The name itself literally means "Youth 18", however there is no actual age limitation to use the ticket.
By purchasing the Seishun 18 ticket at the price of 11,850 JPY, we will get 5 slots, from each of which one person can travel all around Japan using local (futsū/普通), rapid (kaisoku/快速), and special rapid (shin-kaisoku/新快速) trains operated by Japan Railway (JR) company for one whole day (00:00 - 23:59).
So, for example, if we travel in a group of 5 people, we can use this ticket for a one-day trip.
However, if we travel alone, we can go on a 5-day trip by spending one slot of the ticket for each day.
We can buy the ticket over every ticket counter at JR train stations or a travel agency throughout Japan.
This seasonal ticket is sold and valid only during three periods:
1. Spring
Period of sales: Feb 20 - Mar 31
Period of validity: Mar 1 - Apr 10
2. Summer
Period of sales: Jul 1 - Aug 31
Period of validity: Jul 20 - Sep 10
3. Winter
Period of sales: Dec 1 - Dec 31
Period of validity: Dec 10 - Jan 10
Several things that we need to be careful in using this ticket:
1. This ticket does not include the use of JR buses, express (kyūkō/急行), limited express (tokkyū/特急), bullet (shinkansen/新幹線), and Green Car trains. Please check the type of the train before you get on it, lest you will get charged with additional fares. To understand the differences between various types of trains in Japan, you can check this
website:https://goo.gl/WfkbqQ
2. This ticket is only valid for local and rapid trains operated by Japan Railway (JR) company.
So, we have to buy different tickets if we want to travel using trains operated by other private
railway companies.
3. This ticket cannot be inserted to any automatic ticket gate. Instead, we need to enter through
a manned gate and show our ticket to any stand-by JR station staff.   
For further information, please check the following websites:
1. www.jreast.co.jp/e/pass/seishun18.html
2. http://railway.jr-central.co.jp/tickets/youth18-ticket/
---
[Tiket Seishun 18]
Halo, teman-teman semuanya.
Nama gue Ghana, salah satu mahasiswa dari universitas Hiroshima.
Dalam postingan kali ini, gue ingin berbagi salah satu informasi berguna buat teman-teman yang ingin jalan-jalan murah dan hemat di Jepang, khususnya bagi kalian yang saat ini sedang tinggal di Jepang.
Salah satu opsi sangat murah yang bisa teman-teman pake buat jalan-jalan keliling Jepang dengan murah adalah dengan memakai tiket Seishun 18 (青春18きっぷ).
Secara harafiah, "seishun 18" berarti anak muda yang berumur di bawah 18 tahun.
Tetapi, tenang aja karena pada kenyataannya tidak ada batas umur untuk pemakaian tiket ini.
Jadi, siapapun bisa menggunakan tiket Seishun 18.
Harga tiket Seishun 18 adalah 11.850 JPY.
Dengan harga segitu, kita bisa dapat 5 slot.
Untuk tiap slot, satu orang bisa berpergian keliling Jepang dalam satu hari penuh (00:00 - 23:59) dengan menggunakan kereta lokal (local/futsū/普通), cepat (rapid/kaisoku/快速), dan cepat khusus (special rapid/shin-kaisoku/新快速) yang dioperasikan oleh perusahaan JR (Japan Railway).
Dengan kata lain, tiket ini bisa digunakan mulai dari 5 orang untuk jalan-jalan dalam satu hari hingga satu orang untuk jalan-jalan dalam 5 hari.
Tiket ini bisa dibeli di counter pembelian tiket JR atau agen-agen travel yang ada di seluruh Jepang, akan tetapi tiket ini hanya bisa dibeli dan digunakan dalam beberapa jangka waktu tertentu:
1. Musim semi
Masa penjualan: 20 Feb - 31 Mar
Masa berlaku: 1 Mar - 10 Apr
2. Musim panas
Masa penjualan: 1 Jul - 31 Agu
Masa berlaku: 20 Jul - 10 Sep
3. Musim dingin
Masa penjualan: 1 Des - 31 Des
Masa berlaku: 10 Des - 10 Jan
Beberapa hal yang harus diperhatikan dalam penggunaan tiket ini:
1. Tiket ini tidak berlaku untuk pemakaian bis JR, kereta ekspres (express/kyūkō/急行), ekspres terbatas (limited express/tokkyū/特急), shinkansen (新幹線), dan Green Car. Apabila teman-teman naik kereta yang salah, ada biaya tambahan yang teman-teman harus bayar untuk menaikin kereta-kereta jenis tersebut. Jadi, teman-teman harus sangat hati-hati sebelum menentukan kereta mana yang akan dinaiki. Buat pemahami jenis-jenis kereta yang ada di Jepang, teman-teman bisa cek di situs ini:
2. Tiket ini hanya berlaku untuk kereta-kereta lokal dan cepat yang dioperasikan ole perusahaan JR (Japan Railway). Jika teman-teman mau menggunakan kereta yang dioperasikan oleh perusahaan-perusahaan kereta yang lain, maka teman-teman harus menggunakan tiket yang berbeda.
3. Ketika melewati gerbang tiket, teman-teman tidak boleh memasukkan tiket Seishun 18 ke gerbang tiket otomatis. Melainkan, kita harus melewati gerbang jalan dan menunjukkan tiket tersebut ke staff stasiun JR yang ada di counter.
Untuk informasi lebih detail, teman-teman bisa cek di:
1. www.jreast.co.jp/e/pass/seishun18.html
2. http://railway.jr-central.co.jp/tickets/youth18-ticket/