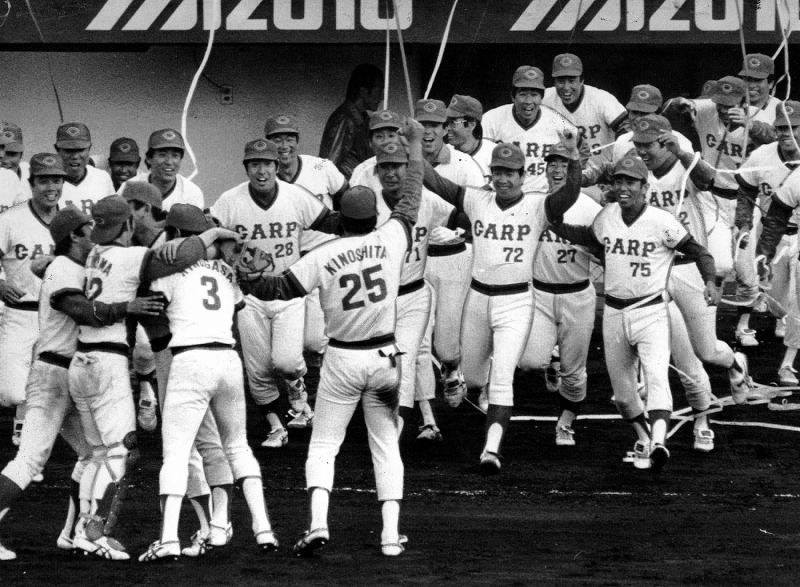 History of Hiroshima Toyo Carp
The first baseball game in Japan is believed to be played in 1871 between foreigners of Yokahama and American soldiers. It quickly spread around and professional league was created it 1936. Hiroshima Carp was established and entered the league in 1950. The team was named Hiroshima Carp because at that time Hiroshima was famous for producing carp fish. Their first stadium was called Hiroshima Sogo Ground Baseball Park.
At first, team's score was low. They were losing more than 70% of the games. The team stayed in league B for 18 consecutive years. Over the years Toyo Association was funding the team, but in 1968 it was merged with Mazda Motor Corporation. It is also the year when Hiroshima Carp landed on the 3rd place in league A. Red was decided as the team's color along with the nickname 'red helmets'.
In 1975 Carp claimed victory for the first time, it is said to be a breakthrough and the start of their golden period. 2nd victory was achieved in 1979 and another one consecutively in 1980. Then in 1984 and 1986. The team has become loved by Hiroshima citizens, claiming another victory in 1991. 
In 2009 the construction of Mazda Zoom Zoom Stadium Hiroshima was finished, even though it was a weak period for the team. They received the best stadium in the Japanese baseball world. It is assumed that it created pressure for the team to fight for the victory again, but eventually they failed. 
2014 is considered the year when many women started attending the games at Mazda Zoom Zoom Stadium Hiroshima and Carp Joshi trend became widespread. In 2015 It was really difficult to obtain tickets to see Carp games, as the team was expected to claim the victory considered by many experts but failed yet again finishing the season at the 4th place. But 2016 brought a big turn over. Hiroshima Toyo Carp managed to become champions for the first time in 25 years and still tickets are really difficult to land hands on as baseball became a big part of Hiroshima's culture.