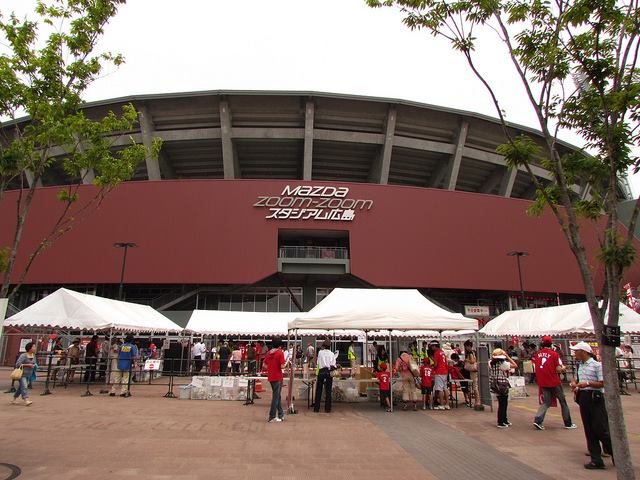 Mazda stadium
The present home field for baseball, MAZDA Zoom-Zoom Stadium, was completed and opened on 10th April 2009. It has an open infield and outfield with natural grass which is rare in Japan. 
MAZDA Zoom-Zoom Stadium Hiroshima officially called "Hiroshima Municipal Stadium" which is in Minami-ku, Hiroshima, Japan (approximately 10minutes walk by Hiroshima station).
In October 2008, Mazda proposed to call the stadium "MAZDA Zoom-Zoom Stadium Hiroshima" for the period between April 1, 2009 and March 31, 2014. On December 24, 2008. Mazda entered into a contract with the City of Hiroshima regarding the stadiums name and made official the abbreviated name "Mazda Stadium. The "Zoom-Zoom" name was a reference to a marketing campaign by Mazda.
The stadium architecture is labelled as a retro-classic ballpark.
It is the home of the Hiroshima Toyo Carp of the Japanese Central League. The team has won the Central League championship 8 times and has also won the Nippon Series 3 times. 
Some more facts about the stadium
Field size: Left Field - 101 metres (331 ft)
Left-Center: 116 metres (381 ft)
Center Field: 122 metres (400 ft)
Right-Center: 116 metres (381 ft)
Right Field - 100 metres (328 ft)
Capacity: 32,000, 300 for wheelchairs, Field seats
(Info via Wikipedia and Madza stadium official website)