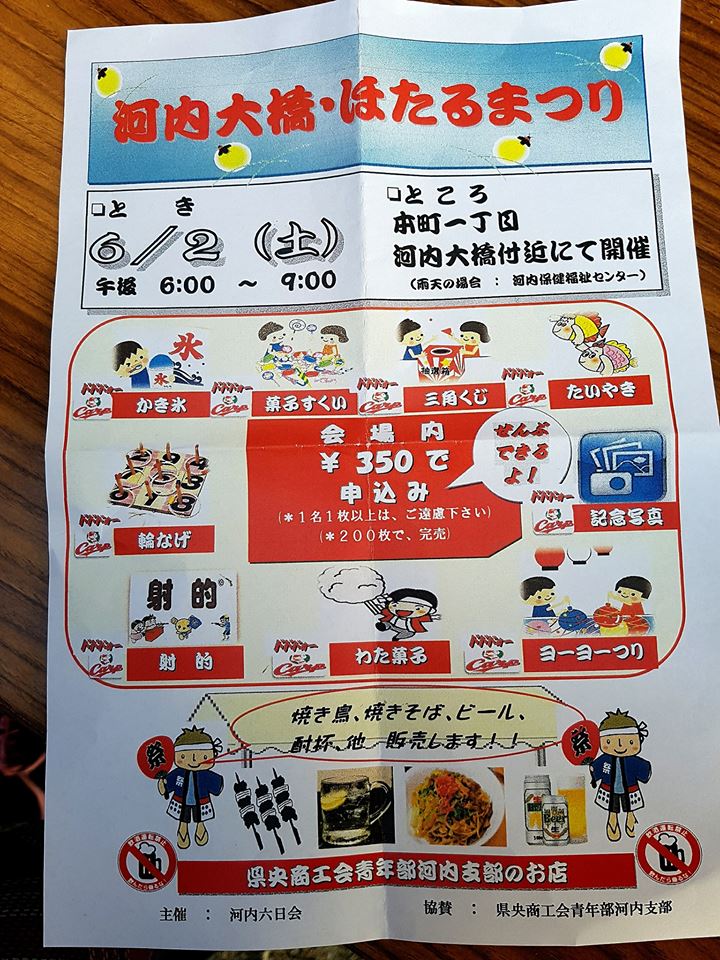 One great evening at "Kouchi Ohashi Matsuri" in Kouchi 
Hello everyone. I am Soth from CAMBODIA. I am a newly recruited member of Hiroshima Study Abroad Ambassador 2018.
Yesterday evening, I went to "Kouchi Ohashi Matsuri" with four other friends from Japan, Indonesia and Syria.
"Kouchi Ohashi Matsuri" is a small summer festival organized by the community people in Kouchi. It has been held for 11-12 years now. There were several food and game booths prepared by the people living around Kouchi. Many people joined, the majority of whom are kids. They came with their parents.
The entrance fee is only 350 yen per one person and you can get a set of 9 tickets. You can use the tickets to buy food, sweet and drink, as well as to play games. You can also get a printed picture of yourself too. Isn't it cool that you can do all of these stuffs for just 350 yen? Moreover, at night around 8pm, there is a firefly sightseeing which you can see quite a lot of fireflies here and there around Kouchi bridge. 
This year, 222 sets of tickets were sold.
- Date: Saturday in the first week of June every year.
- Time: 6-9pm
- Place: Kouchicho Nakagouchi, Higashihiroshima, Hiroshima Prefecture.
- How to get there: Take a train from Saijo station to Kochi station for only 19 minutes and the event venue is right in front of the exit of Kochi station.