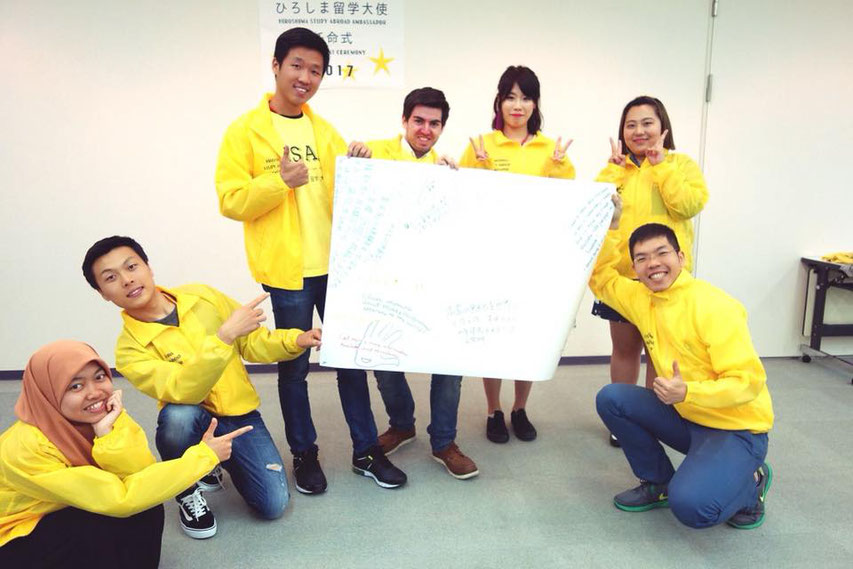 Appreciation
Hi, everyone. A new academic year is going to start soon here in Japan. Which also means it had come to the end of my first year being a member of HSAA (Hiroshima Study Abroad Ambassador). From being anxious at the very first moment of arriving at Japan, to the moment of having friends from all walks of life, one of the party I would like to appreciate the most is ➖HSAA. Throughout the year, HSAA provided me a lot of opportunities to meet and know new friends, various cultures from different countries and also made my life in Japan more meaningful. With the cool name cards, HSAA t-shirt and jacket, I could be proud to show people that I am one of the foreign students in Hiroshima Prefecture. From setting our goals, to enjoying the joy of accomplishing the goals, we, members of HSAA, had worked hard together, helped each other, and also shared our precious experiences among one another. Although it had come to the end of the year, but I am sure that it is just the start of our long journey towards the brighter future. For those who are leaving Hiroshima, let's keep in contact, and for those who are coming to Hiroshima, please come and join us!!! Last but not least, let's pray together for a better year.
---
感恩
在日本,一个新学年即将开启,也就意味着HSAA的一年任期即将结束。从一开始来到日本时的焦虑,到现在的拥有来自世界各地的朋友的喜悦,一个我最想感谢的就是一HSAA。在这一年里,它(HSAA)让我能认识更多朋友、了解世界各地的文化与习俗、更让我拥有更丰富多彩的生活。从一开始为自己定下的目标,到最后享受着达成目标的喜悦。与其说这是终点,倒不如说是我们迈向更好未来的一个起点。至即将离开广岛的你们,让我们继续保持联络、而那些即将来到广岛的你们,欢迎来加入我们这个大家庭,让我们一起创造更美好的一年!
---
Kesyukuran
Salam sejahtera semua. Tahun akademik baharu di Jepun akan bermula. Adakah anda bersiap sedia untuk menyanbunginya? Tahun baharu juga mengertikan satu tanda titik bagi kita sebagai ahli HSAA (Hiroshima Study Abroad Ambassador) tahun yang lepas. Di sini, saya ingin berucap ribuan terima kasih kepada HSAA, yang banyak memberi saya peluang untuk bekerjasama dengan rakan-rakan yang datang dari negara yang berlainan. Kepada mereka yang akan meninggalkan Hiroshima, harapkan kita dapat mengekalkan hubungan silaturahim antara satu sama lain. Kepada mereka yang akan datang ke Hiroshima tahun ini pula, marilah menyertai kita bagi mencipta kejayaan dan juga kehidupan yang lagi menarik!
---
感謝
「いよいよ新学年が始まります!」っていうことは広島留学大使(HSAA)の一年の任期がそろそろ終わります。最初に初めて日本に着いた時の不安から、今多くの国からの友達ができた喜びまで、これはほかではなく、HSAAのおかげだと思います。HSAAの皆と一緒にゴールをセットして、それからゴールを達する為に一緒に頑張ってきた達成感が最高でした!これから広島県を出るあなたたちに、「ぜひ連絡を取り続けてください」。これから広島県で生活をし始めるあなたたちに、「私たちについてきてください」、一緒に良い一年を過ごせるように頑張りましょう!
チュンヤン (マレーシア) Chun Yang (Malaysia)
広島商船高等専門学校
National Institute of Technology, Hiroshima College