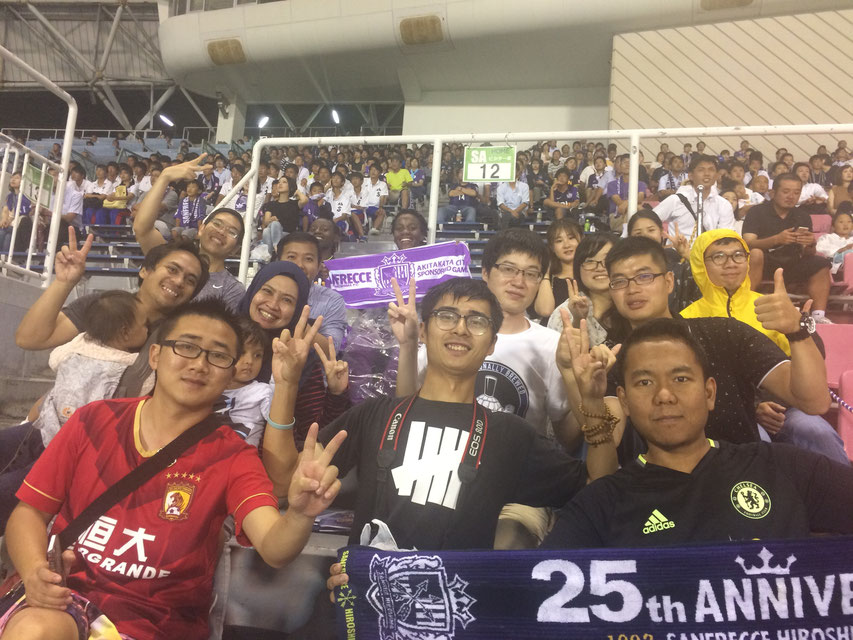 The weather was overcast but we did not mind. Raincoats were being sold just outside the dome. Die-hard fans could shell out 2,000 Yen for a purple Sanfrecce-stamped raincoat. Some Gamba Osaka fans whose colour is BLUE were forced to buy PURPLE Sanfrecce raincoats when the vendors outside ran out of transparent coats. At least blue and purple are neighbours on the colour wheel!!!!!
From the start of the game, the official fan club sanG and shouted their hearts out, with the rest of us joining at crucial moments. Sometimes in rained and sometimes it didn't, yet we never left our seats. Sometimes we cheered and sometimes we grumbled, yet we still did not leave our seats.
Anderson Lopes was the man of the game. He scored the two goals that drew us with Gamba Osaka. The most unpopular person was the referee. He was booed out of the stadium by Sanfrecce fans at the end of the game. SEVEN YELLOW CARDS!!!! You know you're unpopular when cute little kids give you thumbs-down.
All in all, it was a great game. You can arrive at the venue two hours early and not get bored. There is a lot of entertainment outside. And a lot of food. And Sanfrecce merchandise. It's PURPLE PARADISE!!!!!!!!