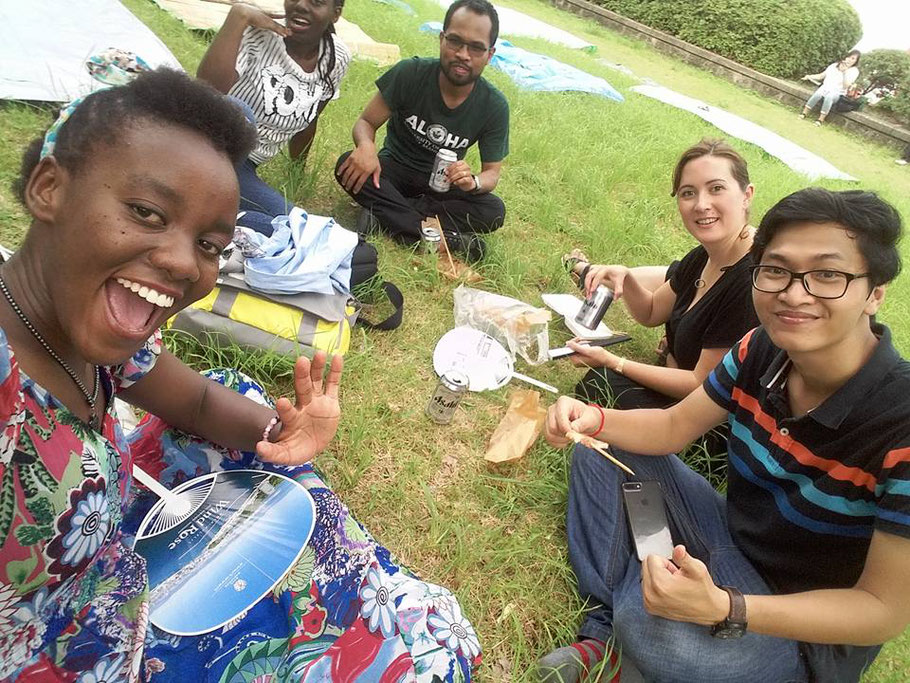 I have never been surrounded by so many people in my life. The camaraderie of my group and the people around us was amazing. We snagged a spot on a small grassy park some meters away from the port. We forgot to carry a mat so sitting on hot tarmac for 3 hours wouldn't cut it.
There were a lot of food stands, with stuff like "monster ices" which were monstrously huge😅 to giant meat slices on sticks. Walking past the stands felt like being put through a pottery oven. Heat from the tens of deep friers on one side, heat radiation wafting up from the hot tarmac, and the sun bearing down on you. ....... Good thing the city handed out free uchiwa hand fans.
We waited three hours before the fireworks started. It was a great opportunity to people watch. I have to say we saw an impressive number of "professional fireworks watchers". Foldable chairs, foldable tables with cup holders, foldable stools. .... a lot of foldable stuff 😀. And of course, the beautiful yukatas.
The show started at 8 and we had inadvertently snagged the perfect spot. I was blown away. The organizers knew how to build up the excitement, from small fireworks to huge ones that seemed to get nearer and nearer. ..... Gold, purple, pink, blue, yellow, green..... a kaleidoscope of colours. The grand finale left a few tears.
Ever wanted to be an extra in a movie about zombie apocalypse and cities being evacuated ? We were! Thousands of people moving in the same direction to catch trams or walk home. And there was no jostling! The police controlled the foot traffic admirably. They'd let us through in waves to line up for the tram.
And of course, the heavens opened and rained buckets. Umbrella or not, everyone got soaked. And it was fun!!! I had no idea my tiny Chihuahua -size umbrella could hold 4 people.
The tram ride to Hiroshima Station took twice as long and we totally ruined the seats with our drenched clothes.
All in all, Japanese festivals are amazing, family-friendly, incredibly safe, crowded yet friendly, food-centred affairs.
I can't wait for the next one. There's literally a festival every week in summer.