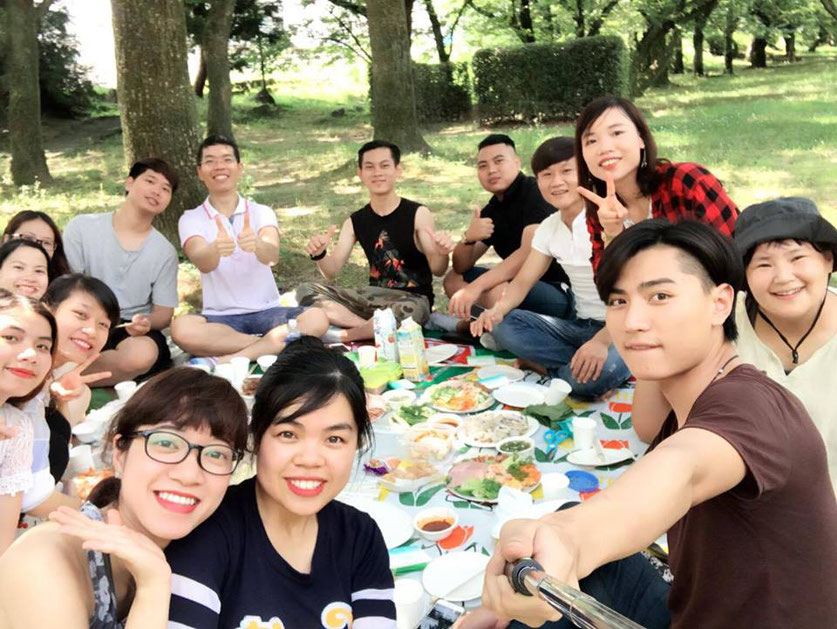 皆さん、お元気ですか?IGL医療福祉専門学校からギアと申します。
今週の月曜日は海の日でした。クラスメートと先生と一緒に牛田アストラムラインの駅の近く公園でピクニックをしました。春巻きや揚げ春巻きや色々なベトナム料理など用意しておきました。特別にせんせいからコロッケを作ってもらって嬉しかったです。そして話したり歌を歌ったりしながら、美味しい食べ物を楽しんでいました。幸福と笑いに満ちていた休日でした。
How are you going guys? Nghia from IGL Medical and Welfare College, Hiroshima, Japan. 
Last Monday was a holiday – Marine Day in Japan.
Our classmates together organized a picnic in the park near Ushita Astram Line station (one kind of public tram transportation), the teacher was joined in too.
There were many Vietnamese dishes were prepared such as spring rolls (gỏi cuốn), fried spring rolls (chả giò), salad, and mixed rice paper (bánh tráng trộn).
Our teacher cooked a Japanese traditional dish korokke (deep fried potato cake). We were enjoying all the delicious dishes while chatting and karaoke also. My holiday was full of happiness and laughs.
【ベトナム語】
Chào mọi người, mình tên Nghĩa đến từ Việt Nam. Hiện tại mình đang học tại trường chuyên môn y tế và phúc lợi IGL, Hiroshima. Dạo này mọi người thế nào?
Thứ 2 vừa rồi là Ngày Của Biển, một ngày lễ bên này nên lớp mình đã tổ chức một buổi dã ngoại ngoài công viên, có cả cô giáo chủ nhiệm tham gia nữa. Các thành viên trong lớp đã chuẩn bị nhiều món ăn Việt Nam như gỏi cuốn, chả giò, gỏi và cả bánh tráng trộn nữa, cô giáo mình thì làm món bánh khoai tây chiên của Nhật. Món nào cũng đều ngon, mọi người cùng nhau vừa ăn uống vừa nói chuyện và hát karaoke. Môt ngày lễ đầy ấp tiếng cười và các món ăn.