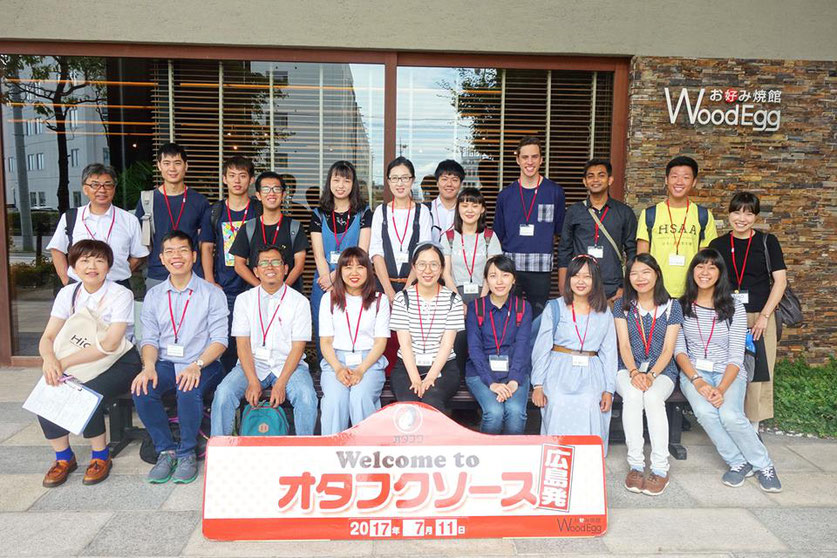 広島商船高専チュンヤンです。今日(7月11日)広島県留学生活躍支援センターが主催した企業見学バスツアーに参加させてもらって、本当に嬉しいです。今回は初めて、7ヶ国の方が参加しました!
二つの企業を見学させてもらいました。一つ目はオタフクソース株式会社です。お好み焼きソースですごく有名だと思いますが、ソースだけでなく、調味料や酢も生産しています。それに日本だけでなく、世界中にもどんどん広まって行きます。現在、中国やアメリカにも工場があるそうです。去年2016年に、マレーシアにもオタフクの工場ができました。2017年にハラルの証明もとりました!
オタフク: http://www.otafuku.co.jp/sp/index.html
二つ目は株式会社ヒロテックです。日本だけじゃなく、世界中で活躍している会社です。今は中国やオーストラリアやアメリカなどにも工場が設けてあります。主な事業内容は自動車部品の設計・制作、各種金型・治具及び組み立てラインの設計・制作、自動車排気系部品の開発・制作となります。主要取引先はマツダ、トヨタ自動車、ダイハツ、本田などがあります。それに、生産ラインを見学させていただいて、ロボットの制御による作業に向かっても頑張っています。その迫力にはすごく感動しました。
Hi, I am Chun Yang from National Institute of Technology, Hiroshima College. I appreciate that I was given the chance to join the Company Tour organized by Hiroshima Support Center for International Students. To our surprise, International Students who joined this activity come from 7 different countries!
We went to two different company which are producing products in different field. First is Otafuku Sauce Co. Ltd, which is very famous of "okonomiyaki" sauce. Besides sauces, they also produce vinegars and other condiments. Recently, it is not only operating inside Japan, but also overseas for example US and China. To my surprise, Otafuku had its own factory in Malaysia in 2016 and OTAFUKU SAUCE MALAYSIA SDN. BHD. acquired HALAL certification for 16 items manufactured at its own factory by JAKIM of HALAL certification body in Malaysia on March 1, 2017!!!
Secondly, we also went to the head office plant of Hirotec Corporation in Hiroshima. Hirotec is now worldwide rather than only in Japan. They have production lines in all over the world such as China, Australia, USA and others. The major operations of the company is to design and manufacture automobile body parts, stamping dies and also automobile body tooling. It also develops and manufactures automobile exhaust systems. Company like Mazda, Toyota, Nissan, Daihatsu, Honda, GM, Ford are also one of its customer. We were given the opportunity to see the one of the part production lines. The amazing production line using not only human power, and also control and robotic systems make me so surprised with it.
Otafuku Global: http://www.otafukusauce.com/e/