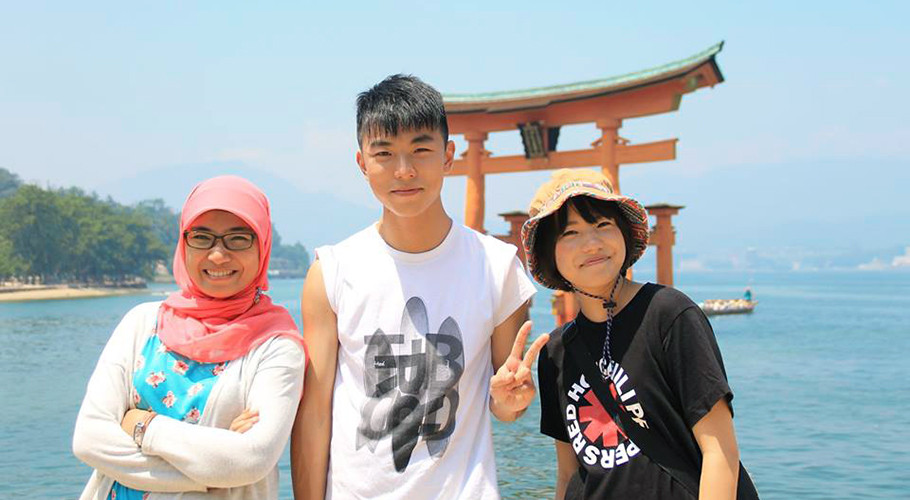 My first time joining event with HSAA.
It was so hot and I had lack of sleep the night before, but I was so excited and it end up as a wonderful trip.
I've been to Miyajima several times but things that makes this one special is I went with new friends, and visit spots that I have never been to.
The Senjokaku temple, Daishoin temple, and making momiji manju were our main activities.
I was impressed by the peaceful Senjokaku, it was fresh inside despite the very hot weather outside.
The Daishoin was very beautiful and we were so lucky to get the free kaki -gori (shredded ice with syrup), made by the obousan (monks).
The long walk by the stairs paid by the fresh of the ice and the beautiful view from above.

Our last activity was momiji manju making. I ate momiji manju many times but that was the first time to make it.
The obaasan who teach us was very nice and friendly. She teach us how to make it and we made anko (redbean) and chocolate momiji manju.
We made ours and we ate them too. Oishikatta.
We were so excited to enjoy the trip that we skip lunch. But we ate some snacks, drink a lot of water, meron pan ice (ice with bread), also oyster. It was worth time spent. For a very sunny sweating day.
I came back home with smile, and sweet memories in mind. Thanks HSAA!